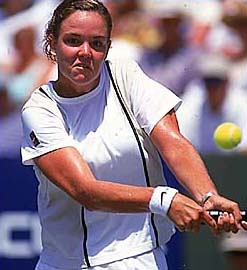 Lindsay Davenport defeated Martina Hingis at Acura
A slimmed-down and fired-up Lindsay Davenport is stealing the show on the women's tour
She's tall and blonde. She's a personable Californian, and she's at the top of the profession. But rest assured, Lindsay Davenport wasn't the reason for Regency Enterprises' recent successful $120 million bid for worldwide television rights to the women's tennis tour. No, in this age of style over substance, Regency is hoping to capitalize on the sport's soap opera appeal, in particular on the sassy, brassy 'tude broodbold and beautiful teenagers with names like Kournikova and Williams.
That leaves little room onstage for a self-deprecating 22-year-old whose idea of a good time is playing peekaboo with her infant niece. But if Davenport gets less attention than Jan Brady, she doesn't mind. "I think the new generation of players is great for the game," she says, "but their style isn't mine. I'm totally happy if the spotlight's not on me. I love that I can do anything and no one bothers me."
She may not have that luxury for long if she sustains her current level of play. After beating Marcia, er, Martina Hingis 4-6, 6-4, 6-3 in the final of the Acura Classic in Manhattan Beach, Calif., on Sunday, Davenport is just 444 ranking points from replacing Hingis as the WTA's top gun. "I'm playing some of the best tennis of my life," says Davenport, who at week's end had won 12 consecutive matches and three tournaments in a row. "Everything is flowing, and the ball is coming off my racket cleanly. If I've ever been in a zone, this is it."
Since Davenport turned pro in 1993, her flat, pace-laced ground strokes have been MACH3-sharp. But this year her conditioning is finally sharp too. By practicing what she calls "portion control" with her favorite delectables (pancakes, chocolate cake and her mom's beef Stroganoff), she has slimmed her 6' 2 1/2" frame by 25 pounds. That, combined with a daily ritual of sprints and basketball footwork drills, has allowed her to gain a step in quickness. "Lindsay is totally unpretentious and laid back," says her coach, Robert Van't Hof, "but when she wants to achieve something, her work ethic is unbelievable."
Though Davenport will never be confused with a golden retriever like Arantxa Sánchez Vicario, it's increasingly rare for her to fail to get to a ball. In the quarterfinals of the Acura, Natasha Zvereva, in need of an updated scouting report, attempted nine drop shots against Davenport. Not only did Davenport reach each one, but she also won all nine points. Davenport, the WTA's second-ranked doubles player, also has added some wattage to her serve and, with varying success, has been coming to the net more often. "Lindsay's just playing great tennis," says Monica Seles, whom Davenport defeated in straight sets in the Acura semis. "I think it's going to be tough for anyone to beat her on hard courts this summer."
Davenport's weight loss has paid other dividends. Aware that other players cruelly called her Dump Truck behind her back, she used to wear an operatic frown on the court, which did nothing good for her confidence or her Q-rating. "It hurts when you're a teenager and people say you're too fat," she says. "Now I feel good about how I look, and I'm taking that out onto the court with me. My confidence level is at an alltime high, and I definitely feel I'm ready for a breakthrough at the U.S. Open."
It has been, to be sure, a long time coming. Since turning pro in 1993, Davenport has won an Olympic gold medal, 17 tournaments and nearly $5 million in prize money, but she has yet to make a Grand Slam final. "I've had some distractions in the past," says Davenport, whose game suffered during the bitter divorce of her parents over the past two years, "but I'm totally committed to my career right now." By year's end tennis's anti-prima donna may well have the No. 1 ranking to show for it.